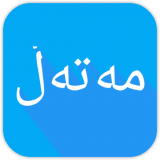 Description of Kurdish - مەتەڵی کوردی
This is a Kurdish E-Book in which it contains a lot of Matals and by the will of God we will not stop updating it .Thanks

- خۆی دەگرێت بە چەند بەشێک کە هەر بەشەو حەوت مەتەڵی تێدایە.
- هەروەها وەڵامەکانی تێدایە
- بەشەکان کەمن بەڵام بە یارمەتی خودای گەورە ڕاناوەستین لە نوێکردنەوەی بەرنامەکە بە زیاد کردنی ژمارەی بەشەکان.
- گەر مەتەڵەکانتان هەموو خوێندەوە ، ئەوا ڕەشی مەکەنەوە لەناو مۆبایلەکانتان لەبەر ئەوەی زوو زوو نوێی دەکەینەوە بە زیاد کردنی بەشی نوێ.
- گەر هیچ کێشەیەکتان هەبوو ئەوا لەناو بەرنامەکە سەردانی ( بۆ گەیشتن بە ئێمە ) بکەن و لەسەر وێنەی فەیسبووکەکە دابگرن و دەتانباتە ناو پەیگی فەرمی خۆم و پرسیارەکانتان ئاراستەی من بکەن.
- ئەگەر ئەم مەتەڵانەتان بە دڵ بوو ، ئەوا ٥ ئەستێرەی بدەنێ .
- هیوادارم پشتگێرمان بن بۆ ئەوەی کوردستان و زمانی کوردی بە خەڵک بگەینین.
- زۆر سوپاس بۆ دابەزاندنی ئەم بەرنامەیە بە هیوای ئەوەی سوودی لێ ببینن.


Good App Guaranteed
This app passed the security test for virus, malware and other malicious attacks and doesn't contain any threats.
Apps like Kurdish - مەتەڵی کوردی
APK Information - Kurdish - مەتەڵی کوردی
APK Version
20.0
Android compatability
Android 4.1.x+ (Jelly Bean)
Developer
Permissions